THE COMPANY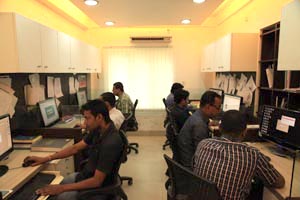 KLIK. is a full-service sign company located in the heart of city. Our company has been a leader in the sign fabrication for over a decade, bringing new standards in the sign industry. We're sign designers, builders, installers - people who take pride in our work, who combine technological expertise with the values of craftsmanship to bring our customers the finest design, quality fabrication, installation, and maintenance. KLIK will build any signage systems needed to meet all your requirements.
OUR GOALS
At KLIK, we strive to provide our customers with high-quality, functional and aesthetically-pleasing signs. We are maintain advanced fabrication technologies, the skill, the expertise, quality materials and the dedication of our professionals to develop the best signage. We will work to ensure that your signage works for you. For a signage that proves quality, affordable cost, durability, and fast turnaround call the people at klik today at 9830010430/9831061939.
OUR FACILITY
Our manufacturing facility is located in the heart of City. We have the most skillful and experienced craftsmen, the right tools and plenty of space to design and build beautiful custom signs for all your needs.